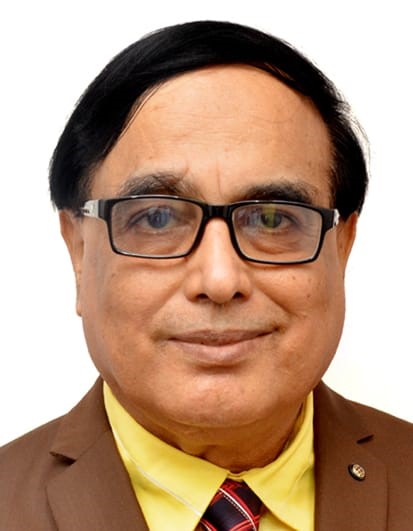 Dr. Sanat Kumar Saha
PGDM; MDP(Royal Institute of Management, London; ISB,Hyderabad; IIM,Bangalore & Lucknow)
PhD & Post Doc (Natural Resources Management)

Honorary Member (Eminent Scientist),
West Bengal State Council of Higher Education
Government of West Bengal, Kolkata
Dr Saha having approx four decades of professional experience as a Scientist, Energy, Environment, Corporate Leader and more recently as an Educator, the role he is most passionate about, he converges diverse point of views on Energy security, Environment, Food & Agriculture.
He has published more than 30 research papers in national and international journals of repute. He is Fellow of different Academic and Professional Institutions and Bodies.
His career started as a Scientist of CSIR and he was on deputation to a Fertilizer Company, PPCL, a Government of India Enterprise in 1982 for a year and worked in PPCL till 1997 at New Delhi. During this period, he was involved in UNIDO sponsored research project at International Fertilizer Development Centre (IFDC), Alabama, USA; also Australian aided Wasteland Afforestation Project as well as European Union sponsored Fertilizer Education Project.
After working in the field of natural resources management, bio-degradation, environmental management for more than 15 years, he joined GAIL(India)Limited, A Maharatna Company of Government of India at New Delhi in 1998 to work with Natural Gas, a green , clean and environment friendly source of energy in its promotion, supply and distribution, including City Gas Distribution (CGD), both CNG & PNG. He received prestigious " GAIL's Hero " Award in 2005 for his outstanding contribution. He retired as General Manager & Zonal Head of GAIL in 2013. As an educator, he delivers Guest Lectures on various topics, more particularly on Energy and Environment at different Universities, Institutes, Colleges, Engineering Colleges Management Institutes, Schools etc. in India and abroad to bring an awareness on Energy Security & Environmental Protection. In the recent times, he visited Moscow State University of International Relations ( MGIMO), Ministry of Foreign Affairs, Russian Federation, Moscow ; St Petersburg State University, Russia; Russian Presidential Academy of National Economy & Administration ( RANPEA),Moscow; Institute of Earth and Environment, Chinese Academy of Sciences(CAS), X'ian, China; Max Planck Institute, University of Stuttgart, Germany; Dhaka University ; Foreign Service Academy of Bangladesh,Dhaka; IIT,Gauhati ; Jadavpur University, Kolkata ; Visva-Bharati, Santiniketan; Pondicherry University ; Mahatma Phule Krishi Vidyapeeth,Rahuri ,Maharashtra; Amity University, Kolkata; Delhi Public School, Bongaigaon, to name a few.